TL;DR: After the analysis in this post, I started using SLANT PRICE DOUGH BALMY, but it may not be the best sequence for you.
There are lots of great videos and articles on the optimal Wordle strategy. I particularly enjoyed this YouTube video by 3Blue1Brown on using the information theory to come up with the best guesses.
But I can't play like that. First, I'm lazy, and second, my slow human brain can't do information theory calculations or depth-first searches.
Instead, every time I play Wordle, I enter the same sequence of words until it feels like there aren't many solutions left, at which point I try to make more tailored guesses.
Here are a couple examples of my recent games: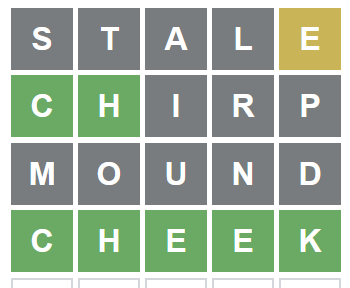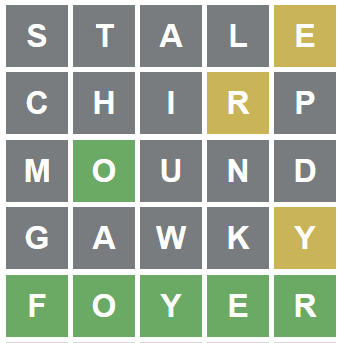 Until today, my go-to words were STALE, CHIRP, MOUND, and GAWKY, picked mostly by gut feel while trying to check as many frequently used letters as possible. So far I've been doing alright with them.
But can we do better?
Yes! Let's use math and programming to do better.